Nun bin ich in über neun Monaten einmal um die Welt gereist. Ich habe Orte gesehen, die ich mir vorher nur vorstellen konnte. Ich habe Leute getroffen, die ich vorher nicht kannte. Was aber am wichtigsten ist, ich habe versucht meinen Traum zu verwirklichen und wurde mit Gastfreundschaft und Erfahrungen überrascht und belohnt, die ich kaum zu träumen gewagt hätte. Obwohl ich bei all diesen Erlebnissen und Gegebenheiten selbst dabei war, scheinen sie mir doch etwas irreal. Das soll mir alles passiert sein?!?

Es wird wohl noch eine Weile dauern bis ich all dies erfassen kann, aber dafür hab ich dies ja mein ganzes Leben. Ich habe etwas, was mir keiner wegnehmen kann. An den Gesprächen und Kommentaren der letzten Zeit habe ich gemerkt, dass es viele Leute sozusagen virtuell mit mir mitgereist sind. Immer wieder höre ich "Ich habe die Zeitungsartikel (bzw. die Website) gelesen.". Dann werde ich an Anekdoten erinnert, die ich schon fast vergessen hatte. Es scheint so, als hätten einzelne Leser meine Website regelrecht auswendig gelernt. (Derjenige weiß schon, wer gemeint ist.) ;) Dies freut mich natürlich, sehe ich doch, dass die Leute interessiert, was ich erlebt habe. Viele Leute haben Träume und reden nur darüber. Ich habe es wie gesagt versucht und wurde belohnt. Und wenn ich nur eine einzige Person hiermit motivieren kann es ebenfalls zu versuchen... es muss ja keine Weltreise sein. Jeder hat andere Träume!

Gleichwohl weiß ich, dass ich all die Ereignisse nicht nur wegen mir allein erleben durfte, sondern dass hieran viele andere Menschen jeweils ein Stück beteiligt sind. Sei es, dass sie mich unterstützten oder sei es, dass sie mir auf der Reise begegnet sind. Ohne alle diese Menschen wäre meine Reise nicht zu dem geworden, was es am Ende ist. Eine geniale Weltreise bestehend aus vielen kleinen Episoden! Ich möchte hiermit allen danken und sage einfach:

Thank you to the world! – Danke an die Welt!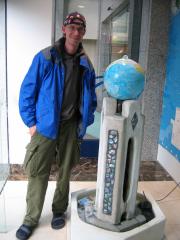 Ich weiß, dass es ein schwieriges Unterfangen ist, alle Namen hier aufzählen zu wollen, doch möchte ich es versuchen und sollte sich jemand hier nicht wiederfinden, so ist dies keineswegs böse gemeint sondern dieser eigentlich unmöglichen Aufgabe geschuldet. Nach einem Hinweis wird dies selbstverständlich sofort nachgeholt:
Den allergrößten Dank möchte ich meinen Eltern, meiner Schwester und dem Rest meiner Familie sagen, die mich die ganze Zeit bei der Verwirklichung meines Traumes unterstützten.


Vielen Dank auch an meine Freunde und an die Sponsoren dafür, dass sie an mich und meine Idee geglaubt haben: Schäffi, Kalle, Claudia, Fred, Conny, Putzi, Ute, Bocki, Heidi, Erik, Melli, Stefan, Zensi, Nicki, Kirsten, Birgit, Die Agency, Mario, Christoph, Flo, Die Nachbarschaft, Robert, Lobi, Sören, Anita, Katja, Markus, Die Stammtischphilosophen, Marleen, Andreas, Marie, Jan, Andree, Katja, Stefan, Corinna, David, Karsten, Katrin, Finger, Kathrin, Stolle, Guido, Doris, Christian, Ivonne, Andy, Kathleen, Manja, Schnachti, Harry, Mathis, Roy, Kerstin, Julia, Krissie, Günter Ramthor und Ehefrau, Klaus Jäger, Herr Projahn, Frau Pilz, Konta Barthel, Herr Müller, Frau Turba, Unbenannt, Sebastian Putze, Sabine Schirdewahn, Gislinde Eicher, Iris Döhring und Uwe Schlacken.

Ich danke den Leuten, die ich unterwegs getroffen habe: Alle, die mich und Stolle mit dem Auto mitgenommen haben!, Alle Polizisten, die uns kontrolliert haben! ;), Anja und Christoph für die Wohnung, Andreas, Qweiser, Wassili und Yasemine für das tolle Essen, Clemens für die Fahrt nach Wien und den Abend dort, Doris aus Wien, Krisztián und Freunden für die Gastfreundschaft in Budapest, Hulya, Tugce und Bahar für die tolle türkische Gastfreundschaft, Ahmet für das Lammhirn ;), Usal, Crazy Eddy, Soraia, Volkano, Andreas, David, Mustafa, auch wenn ich länger bleiben sollte, Familie Schmidt aus Stuttgart, Ahmad aus Port Said, Guenola und Stephane für die Zeit in Ägypten, Ahmed als der informierte Mann aus Kairo, Ben de Tierra, einem wahren Weltreisenden für die vielen wertvollen Tipps, Herr Zacharias, der schönen Tanja aus Serbien, Kiyoko, Hareramram für die Tigereyes, Ahmed und Javed für die schöne Zeit beim Spiel, Elif, Nilüfer und Nancy für die schöne Zeit in Richtung Himalaya, Rajeev, den besten Jeepfahrer aller Zeiten, ABBA in India - Therese, Gabriel, Nora und Alex, Jasmin für die tolle Zeit mit Euch, Selene, Nico, Malay für die ungewollte Komik, Vineeta, Adnan, Christian, Alistair und Katharina die ich ebenfalls auf Weltreise traf, Jason und Alex zwei Kanadier, die ich nie vergessen werde, Andreas, die schöne Ditte und die schöne Marie, der Speedboat-Mafia auf dem Mekong River, die Freunde vom Angnam Ngum-Lake – Jörg, Baruch, Ram, Haggai und der schönen Nicy, die schöne Nicole aus der Schweiz, Henner für die tolle Zeit auf der Dschunke – "And then?", Ingo für die witzigen Frotzeleien und die Zeit in Melbourne, Pastor David und Familie für ein unerwartetes Erlebnis, Diana für das T-Shirt, Emma von Studentflights für die gute Beratung, Finger und Kathrin für die lustige Zeit in Neuseeland *augezusammenkneif*, Carine, den Mitarbeitern von Canon Neuseeland für die Reparatur meiner Kamera, Steve für sein tolles Backpacker am Strand, Fee und Ken, Rob und Suzie und Familie für die tolle Zeit bei Euch zu Hause mit Eurer Familie und im Büro, Joanne für die schöne Zeit mit ihr und in ihrem Haus, der schönen Amber im Laughing Kiwi Backpackers, Falko, (Wilhel)Mine aus Österreich, Annika, Thomas, Clemens, Lawrence, Luis und Laura eine schöne Ehe, Ina aus Mainz für die tollen Emails, Michael the Kiwi, Mi familia segunda - Josefa, Jesus, Karla, Carlos, Marcella, Raúl, Mariana, Abuela und all die anderen, Adalberto und die schöne Laura Estrella, Alex und Sabine aus Österreich– man sieht sich irgendwo in der Welt, Ivonne und Carolin aus Leipzig, Andre der verrückte Schwede und Koch, Tom, Fabien – der mehr Sprachen kann, als es gibt, der alte Bill, der jeden zu sich nach Hause einladen will und Judith, Marco und Familie, mein persönlicher Zivi Sven, Rodolfo für sein tolles Backpacker, Gabriele und Katia aus Firence, Dan und Familie für die tolle Zeit bei Euch, Galen und Familie für den "Cowboy for one day", Rapid City Firefighter, Crazy Jason ;) für eine wirklich geile und kalte Zeit in Winnipeg – viel Glück in Sierra Leone, Ian für die Fahrt vom Flughafen und durch Ottawa, die schöne Lena in New York, Aíne und Molly, die beiden Irinnen für die tolle Weihnachtsparty, den Londonern und Touristen, die mir den Blick auf das Silvesterfeuerwerk versperrt haben, Guenola und Stephane für die Zeit in Paris, Commitee de Jumelage Seclin für das Hotel, Monsieur Debreu, Monsier Magen, Pascal für den schönen Abend, Stephen, der viel zu viel erzählt, Laslo und Familie für die tolle und lustige Zeit bei Euch, S.A. Mark, Anders, Mikael, Marks Kommun, Herr Johannsson, Therese und Nora für die Geheimhaltung, die Party und die Übernachtung, Alex und Gabriel für die tolle Zeit in Uppsala, Manfred, Karla für die Strümpfe ;), Thorsten, Hotel Müller Berlin für Empfang und Bewirtung, Henner und Claudia, Angelika und Hans-Peter für die Übernachtung, Anke, Axel und Peter, Andree und Katja für die letzte Übernachtung, Herr Remann, Frau Röppenack und Herr Beck für die Versorgung mit Informationen, meinen Eltern und Fam. Hahn für den Empfang in Apolda, Daniela und Mario für die letzten Meter, Finger, dass er endlich meine Sachen gebracht hat, allen die mich am Ortseingangsschild empfangen haben und die meine Willkommensparty organisiert haben.
Ich danke außerdem allen, die ich noch vergessen habe!
Noch einmal eine besondere Erwähnung für Guido, Doris, Christian und Ivonne, die mir diese professionelle Website gebastelt haben. Ohne Euch hätte man hier nicht so viel sehen und lesen können!
Ich danke der Welt, dass es sie gibt, denn ohne sie gäbe es keine Weltreisen! ;)
Steffen