Als ich mir unterwegs irgendwann mal ueberlegte, wo denn meine Reise langgehen soll, kam ich auf die tolle Idee Weihnachten in New York und Silvester in London zu feiern. Dekadent, oder? Doch, das wollte ich mir goennen. Und ich habe es wahr gemacht. Ich traf Leute, die ich kannte und ich traf Leute, die ich nicht kannte, die aber ueberraschenderweise mich kannten. ...

Der "nette" Grenzbeamte, Ottawa, Do. 23.12.2004

Auf dem Weg von Ottawa nach New York lernte ich wieder mal eine Lektion in Sachen Einreisebestimmungen fuer die USA. Ich war etwas spaet dran und hatte am Flughafen in Ottawa gerade mal sechs Minuten zum einchecken. Das ist nicht viel Zeit, aber gluecklicherweise lief alles gut, jedenfalls bis dahin. Ottawa ist so nah zur USA, dass sich die Boarder Control der Vereinigten Staaten schon auf dem Flughafen von Ottawa befindet. Ich war nun etwas in Eile und der Beamte schien die Musterung jeder einzelnen Seite meines Passes zu ueberpruefen. Dann sah er den Einreisestempel fuer die USA vom Oktober, was nun ueber zwei Monate her war. Ich dachte, dass es aufgrund meines Stempels eigentlich kein Problem sein duerfte wieder reinzukommen, denn hiermit konnte ich mich drei Monate in den USA aufhalten. Er fragte mich also, wann ich denn das letzte mal in den USA gewesen sei. Doch, dies wusste ich nicht auf Anhieb, schliesslich hatte er ja meinen Pass mit dem Datum. Waehrend ich so ueberlegte schaute er mich missmutig an und schwenkte dann ueber zur Frage, wann ich denn das letzte mal in Deutschland gewesen sei. Auch hier musste ich etwas ueberlegen, kam aber dann darauf, dass es so ziemlich genau acht Monate her war. Jetzt erntete ich erst recht sein Unverstaendnis und er konnte es gar nicht glauben. Jetzt war ich also verdaechtig. Die Zeit lief mir davon und der Herr Beamte inspizierte erneut meinen Reisepass – Seite, fuer Seite, fuer Seite... Und dann kam die Fragesalve. Wo ich denn alles gewesen sei? Wie lange? Was ich dort jeweils gemacht haette? Weshalb ich in die USA einreisen wolle? Wohin ich gehe? Was ich dort mache? Wann ich wieder ausreise? Wo ich mein Weiterflugticket habe? Wo ich in New York bleiben will? Ich kam mir vor wie bei einer polizeilichen Befragung und fand mich in der Position des Verdaechtigen wieder. Speziell als ich zu erklaeren versuchte, dass ich auf einer Weltreise sei, stand ihm das Unverstaendnis geradezu ins Gesicht geschrieben. Er fragte immer und immer wieder, wie ich dies denn als Student finanzieren koenne, usw., usw. …

Ich wollte doch nur in die USA einreisen, nicht meine ganze Lebensgeschichte hier ausbreiten. Ich kann ja bis zu einem gewissen Grade die erhoehten Sicherheitsbedenken der USA verstehen, doch es ist alles eine Frage der Verhaeltnismaessigkeit. Und hier an dem Grenzposten lag ein totales Missverhaeltnis vor. Jeder Einreisende ist grundsaetzlich verdaechtig und hat jetzt zunaechst seine Unschuld zu beweisen. Ausserdem hat jeder Fingerabdruck und Foto zu erdulden. Kann dies im Sinne des Erfinders sein. Durch diese Praxis werden sicher viele Leute abgeschreckt werden, da man immer mit einem schlechten Gefuehl einreisen muss. Wenn man bedenkt, dass diese Nation darauf basiert, dass Leute von ueberall auf der Welt hierher kamen, um die sich bietenden Chancen hier zu nutzen. Die USA ist eine multikulturelle Gesellschaft und sie ruehmen sich immer als Land der unbegrenzten Moeglichkeiten. Doch, im Moment ist jeder der nicht dazu gehoert ein potentieller Feind. Ich denke, dass dies in Zukunft ein Problem fuer die USA sein kann, da auch viele gute Leute, die vorher gern in die USA gewollt haetten (ggf. zu Studium bzw. Arbeit) sich nun aufgrund dieser andauernden Verdaechtigungen lieber fuer ein anderes Land entscheiden. Nach den Grenzerfahrungen hier ist dieses Land auch nicht gerade an oberster Stelle meiner Hitliste.

Ich schaute also andauernd auf die Uhr und antwortete ihm missmutig. Ich wollte es jedoch nicht uebertreiben, denn schliesslich wartete mein Flieger. Nach ewig langer Zeit durfte ich dann endlich unter seinem strengen Blick und mit seiner Erlaubnis auf die andere Seite.

Ein internationales Weihnachtsdinner, New York, Fr. 24.12.2004

In New York angekommen suchte ich mir zunaechst ein Zimmer in Upper Manhattan und versuchte mich mit Andre in Verbindung zu setzen. Dies ist der Schwede, den ich in Guanajuato, in Mexico, kennengelernt habe. Mit ihm war es auch, mit dem ich die Erlebnisse um den Dia de Muertos in Patzcuaro hatte. Waehrend wir eines Tages so vor unserem Sechs-Sterne-Zelt (wir erinnern uns) sassen, quatschten wir ueber unsere weiteren Plaene und stellten fest, dass wir beide vorhatten um Weihnachten rum in New York zu sein. Also verabredeten wir uns hierfuer und hielten die ganze Zeit per Email Kontakt. Das gute war, dass Andre hier Freunde hatte, und als Koch fuer diese am Heiligen Abend ein Weihnachtsdinner zaubern wollte. Ich war auch dazu eingeladen. Soweit unser Plan.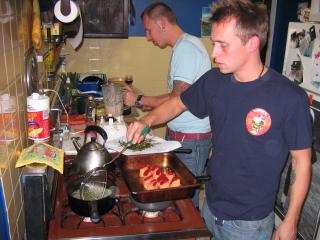 Jetzt wollte ich rausfinden, ob es wirklich an dem war. Und wahrlich, es war kein Problem. Es stellte sich heraus, dass Andre Aíne und Molli, zwei Maedels aus Irland kannte, die hier arbeiteten und eine Wohnung hatten und als ich am Weihnachtsabend dort auftauchte, war auch noch ein anderer Schwede Bjorn (ebenfalls Koch und Andre´s Freund von Kleinauf) da. Beide zauberten ein herrliches Essen und es war wirklich lecker. Es ist schon praktisch, wenn zwei Profis das Essen herzaubern (Bild links). Ausserdem hatten wir jede Menge Wein dazu. Wir hatten alle zusammen also einen schoenen und vor allem internationalen Weihnachtsabend. Fuer mich war daran das Schoenste, dass ich Andre wiedergetroffen habe und Weihnachten nicht allein verbringen musste. Der Abend war ziemlich lustig und fuer mich gab es dann etwas zu viel Wein, so dass ich auf der Couch dort uebernachtete.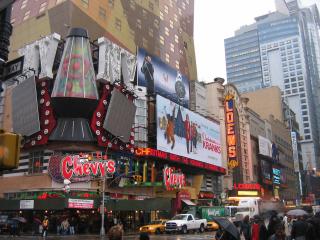 Apoldaer in New York - Die Geschichte der durstigen Freiheitsstatue, New York, Sa. 25.12.2004 - Mi. 29.12.2004
Natuerlich habe ich mir in den kommenden Tagen auch New York angeschaut. Stadtteile, von denen man sonst immer nur im Fernsehen hoert lagen jetzt sozusagen vor meiner Haustuer: Manhattan, Queens, Brooklyn, Harlem… Immer wieder fuhr ich in die Stadt und war von den riesigen Hochhaeusern fasziniert. Da Weihnachten war, kam ich natuerlich nicht am Weihnachtsbaum im Rockefeller Center vorbei. Ich schaute mir den Times Square an (Bild rechts), den Broadway, wo die verschiedenen Shows laufen, war am Empire State Building, lief die Wall Street und die 5th Avenue lang und sah den Ground Zero (aber eigentlich gibt es da nicht soviel zu sehen).
Zu einem Besuch in New York gehoert natuerlich auch die Statue of Liberty. Um dorthin zu gelangen, muss man sich nach Manhattan Downtown begeben und kann von dort mit einer Faehre nach Ellis Island fahren, also direkt auf die Insel, wo die Freiheitsstatue steht. Zunaechst kauft man sich ein Ticket und stellt sich dann in eine Reihe mit mehreren Hundert Leuten, was dann schon mal eine bis anderthalb Stunden dauern kann, bis man dann wirklich an der Faehre ist. Besonderen Spass macht das noch, wenn es saukalt ist und man da steht und steht…
Nach ca. einer dreiviertel Stunde kam ich dann endlich in das Gebaeude, von dem die Faehren ablegen. Dort hat man sich, bevor es zur Miss Liberty geht, zunaechst einem Sicherheitscheck zu unterziehen. Ich hatte dieses Prozedere in der letzten Zeit durch meine vielen Fluege sehr oft durchgemacht, so dass ich schon eine gewisse Routine entwickelte. Als ich dann meine Sachen nach der Roentgenmaschine nehmen wollte, hielt mich der Sicherheitsbeamte auf und fragte, was dies fuer eine Flasche sei, die ich in meinem Rucksack habe. Als er feststellte, dass es sich um meine Apoldaer Bierflasche handelte, sagte er mir, dass Alkohol auf Ellis Island nicht erlaubt sei. Er stellte mich vor die Wahl ohne Flasche zu fahren, dann wuerde diese hier weggeworfen oder eben nicht zu fahren. Dies waren meine Moeglichkeiten! Auch mein Versuch zu erklaeren, dass ich damit um die Welt reise und nur ein Foto mit ihr machen wolle, stiess auf taube Ohren. Der Sicherheitsbeamte hielt die Flasche fest und gab sie nicht aus der Hand, bis ich mich auf eine der beiden Alternativen festgelegt haette. Ende der Diskussion!
Ich brauche einen Moment zum Nachdenken…
'Was fuer eine Entscheidung, vor die sie mich hier stellen! Mir geht durch den Kopf, was ich alles schon mit dieser Flasche erlebt habe: Ich bin mit ihr nach Istanbul getrampt, war mit ihr in arabischen Laendern unterwegs, wo das mit dem Alkohol so eine Sache ist, ich war mit ihr im Himalaya ueber 5000 Meter, bin damit quer durch Indien gereist und war damit in Suedostasien, ich habe Australien damit durchquert und hatte sie in Neuseeland dabei, ich war mit der Flasche in Mexico und USA unterwegs und sie hat in Canada tiefste Temperaturen ueberstanden und nun soll ich sie einfach wegwerfen???...'
Auf einmal war die Entscheidung ganz einfach. Apoldaer geht um die Welt! Solln sie doch Ihr Ellis Island fuer sich behalten. ;PPP Ich entschied mich die Flasche zu behalten und lieber zu gehen und auf die Freiheitsstatue zu verzichten. Ich frage mich nur, weshalb sie keinen Alkohol auf Ellis Island wollen. Wollen sie etwa verhindern, dass Miss Liberty trinkt? Dabei hab ich doch gesehen, dass sie auf Apoldaer Bier steht… ;)))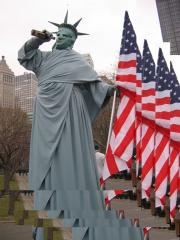 Mein Geld fuer die Faehre bekam ich uebrigens zurueck und nahm dann eine andere Faehre nach Staten Island, diese ist die normale Faehre fuer Leute, die dort arbeiten, leben etc. Sie faehrt dabei direkt an der Freiheitsstatue vorbei und der Witz ist, das kostenlos!!!
Doch, nun zurueck zum Ernst des Lebens. In den folgenden Tagen werden die News von der schweren Tsunami-Katastrophe in Suedostasien beherrscht. Jedesmal, wenn ich neue Nachrichten hoere, hat sich die Zahl der Todesopfer verdoppelt. Auch Phuket ist betroffen. Wenn man bedenkt, dass ich noch ein paar Monate vorher dort war… Die Kublais Khan II ist kurz vorher von dort weggesegelt und hat den Tsunami unbeschadet ueberstanden. Wie ich von der Website der Saalfelder Weltenbummler erfahre, sind sie mit ihrer Dschunke auf dem Weg nach Sri Lanka, um ihre Medizin zu uebergeben und zu Helfen, wo es denn geht. Respekt!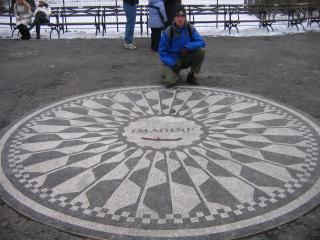 An einem Tag in New York schaue ich mir den Central Park an und bin vor allem an den Strawberry Fields interessiert, der Gegend, wo John Lennon lebte und von einem fanatischen Fan getoetet wurde. Im Park befindet sich ein Gedenkplatz, wo in einem Mosaik das Wort "IMAGINE", nach einem der bekanntesten Songs von John Lennon, geschrieben steht (Bild rechts). Nach einer Zeile aus diesem Song "Imagine all the people, living life in peace" sollen die Strawberry Fields einen Platz fuer den Frieden in dieser Welt symbolisieren. Wenn man dies noch mit einer Zeile aus einem anderen Beatles Song kombiniert "Strawberry fields forever", kann man sich nichts besseres fuer diese Welt wuenschen.
Als ich dann am Abend des 29. Dezember am John F. Kennedy Flughafen in New York ankomme, werde ich von der Masse von Leuten beinahe erschlagen. Ich war schon extra zweieinhalb Stunden eher dort angekommen, als ich dann aber nach eineinhalb Stunden immer noch in der Schlange stehe und der Checkinschalter noch so weit weg erscheint, mache ich mir langsam sorgen, schliesslich kommt noch der Sicherheitscheck und ich muss zum richtigen Gate. Doch, kurz bevor es wirklich kritisch wird, zeigt der Monitor fuer meine Flugnummer "Delayed" an. Der Flug hat also Verspaetung. Ich kann aufatmen und weiter warten.
Bevor ich gen London fliege, moechte ich mich auf jeden Fall bei Aíne und Molly fuer die Gastfreundschaft und bei Andre, Bjorn fuer das tolle Weihnachtsessen bedanken (Bild unten)!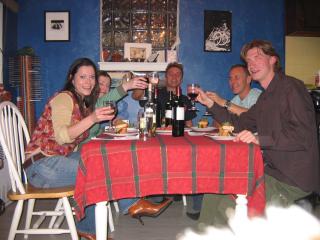 Go raibh míle maith agat! and Tack så mycket!
Back in good old Europe, London, Do. 30.12.2004 - Fr. 31.12.2004
Der Nachtflug gen London war ganz ok, abgesehen davon, dass ich die meiste Zeit ueber nicht schlafen konnte, da mein Nachbar (vermutlich Inder) die ganze Zeit ueber die Flugbegleiter damit beschaeftigte, immer wieder nach einem neuen Flaeschchen Rotwein zu fragen, die er dann in Bruchteilen von Sekunden leerte, um das ganze Spiel von vorne zu beginnen. Es schien so, als wollte er sich auf dem Flug gleich fuer das ganze naechste Jahr versorgen. Wollte er etwa seinen Flugpreis in Rotwein aufwiegen? Vielleicht hatte er aber auch den guten Vorsatz im naechsten Jahr nicht mehr zu trinken und wollte sich noch mal richtig die Kannte geben? Na ja, jedenfalls hatte der Wein nach einer Weile die Wirkung, dass er zu muede wurde, um nach Nachschub zu fragen. Endlich schien mein Schlaf in greifbarer Naehe, aber da waren wir auch schon fast da.
In London am fruehen Morgen des 30. Dezember angekommen, war ich sehr muede. Da meine Kontakte in London sich nicht meldeten, und mir auch kein anderer mit einem Zimmer weiterhelfen konnte, besorgte ich mir mit etwas Glueck eine Uebernachtung in einem Hostel. Und schon dort bemerkte ich, was ich in den kommenden Tagen noch extrem zu spueren bekommen sollte, London ist teuer, sauteuer! Doch, ich war einfach zu muede, um mich lange darueber zu echauffieren. Ausserdem, was konnte ich tun? Ich musste es nehmen, wie es ist.
Am Abend bzw. am naechsten Tag erkunde ich die Stadt und wieder in einer kurzen Zeit Sachen, von denen man sonst nur liest bzw. hoert: Picadilly Circus, Trafalgar Square, Big Ben, London Eye, Westminster Abbey, Downing Street und Buckingham Palace. Und ueberall in den Strassen sah man natuerlich die schwarzen Taxis und die bekannten roten Londoner Busse.
Ohne Feuerwerk am Big Ben, London, Fr. 31.12.2004 - Sa. 01.01.2005
Am Silvesterabend mache ich mich gegen 22:00 Uhr vom Hostel aus auf, um Richtung Big Ben zu kommen. Ich dachte eigentlich, dass dies genug Zeit sei, hatte aber nicht mit so vielen Leuten auf den Strassen gerechnet. Gerade noch rechtzeitig, ein paar Minuten vor Mitternacht Londoner Zeit erreichte ich dann auch den Big Ben. In Deutschland war es ja nun schon fast eine Stunde Neujahr und hier sollte gleich das grosse Spektakel stattfinden. Ich konnte jedoch den Platz, den ich mir vorher ausgesucht hatte, mit Blick auf das London Eye, wo auf der anderen Seite der Themse das Feuerwerk stattfinden sollte, nicht erreichen. Ich stand eingekeilt zwischen Tausenden von Leuten da und sah den Big Ben und ein unheimlich grosses Gebaeude. Und genau hinter diesem Gebaeude war vermutlich das beste Feuerwerk aller Zeiten. Ich weiss es aber nicht. Ab und zu konnte ich eins, zwei Funken sehen, die ueber dem Haus hervorlugten und konnte erahnen, was fuer ein tolles Feuerwerk dies sein musste. Aber wie gesagt, sehen konnte ich davon nichts. Doch, auch die Leute um mich herum zu beobachten war ganz interessant. Ueberall umarmten und beglueckwuenschten sich die Leute und wuenschten sich ein gesundes Neues Jahr. Ich sah die Leute aus den unterschiedlichsten Laendern und hoerte die unterschiedlichsten Sprachen und dies alles hier auf diesem Platz vereint. Und ueberall war die Londoner Polizei praesent, zum Teil zu Fuss, zum Teil zu Pferd und zum Teil in Autos. Fuer sie war es eine ganze besondere Situation. Sie hatten dafuer zu sorgen, dass die Lage hier im ganzen Ueberschwang nicht eskalierte bzw. ausser Kontrolle geriet. Kein leichter Job!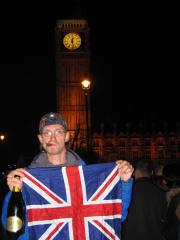 Als sich nach etwa einer halben Stunde die Lage etwas entschaerft und sich die Massen etwas aufgeloest hatten, konnte ich ein Plaetzchen finden, wo ich meine Flasche Sekt oeffnete und meine Neujahrszigarre rauchte.
Happy New Year!!!
Ich laufe noch etwas umher und mache mich dann auf den Heimweg. Doch, dies ist nicht allein meine Idee und so habe ich erneut das Gefuehl der romantischen Enge mit hunderten von anderen Leuten, waehrend wir auf die U-Bahn warten. Das schoene an dieser Nacht ist, dass die Benutzung der U-Bahn bis 4:00 Uhr kostenlos ist – sponsored by Fosters. Finde dies ist eine gute Sache, so koennen die Leute was trinken (und sofern sie die Massen ueberleben) an Stelle des Autos mit den oeffentlichen Verkehrsmitteln nach Hause fahren. Na ja, um 2:30 Uhr war ich dann wieder im Hostel.
Ueberraschendes Treffen in der Liverpool Street Station, London, Sa. 01.01.2004 - Mo. 03.01.2005
Nach dieser anstrengenden Nacht schlafe ich zunaechst aus. Meine erste Amtshandlung im neuen Jahr ist dann der Besuch des Sherlock Holmes Museums in der Baker Street 221b. Als ich danach noch so kreuz und quer mit der Metro durch London fahre, steige ich in der Liverpool Street Station aus, da ich dachte, dass ich hier die Linie wechseln muss. Als ich dann aber nachschaue, stelle ich fest, dass ich doch mit der alten Linie haette weiterfahren muessen. Also stelle ich mich an den Bahnsteigrand und warte, als mich von der Seite jemand auf Deutsch anspricht: "Entschuldigung! Du bist doch Steffen Wettig?" Da stehe ich hier mitten in London irgendwo rum und jemand spricht mich mit meinem Namen an?! Total verwirrt blicke ich mich um und kann die Person, die mir gegenueber steht ueberhaupt nicht einordnen. Ich schaue ihn fragend an.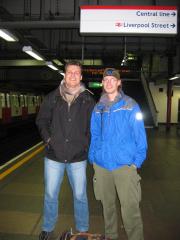 André und Jana sind aus Jena und André arbeitet im Moment mit meiner Mutter in Leipzig zusammen. Er hatte ueber meine Reise auf meiner Website gelesen und noch mit meiner Mutter gescherzt, ob er mir etwas mitnehmen solle. ;) Ich kann es gar nicht fassen. Es ist schon unglaublich, da steige ich aus Versehen an der falschen Station aus (wo ich normalerweise gar nicht sein wuerde) und treffe dann jemanden, aus der Heimat, der dann auch noch meine Mutter kennt und das Mitten in London. Die Welt ist klein! Selbstverstaendlich haben wir ein Beweisfoto gemacht (Bild rechts) und ich ueberliess es André, der meine Mutter naechste Woche wieder auf der Arbeit treffen wird, sie mit der Nachricht bzw. dem Foto zu ueberraschen.
Die beiden Jenaer sind gerade mit dem Flieger in London gelandet und nun auf dem Weg einen Freund hier zu besuchen. Wir setzten also die U-Bahn-Fahrt gemeinsam fort und hatten einiges zu erzaehlen, bevor sich unsere Wege wieder trennten. Zufaelle gibt's! Das neue Jahr faengt ja gut an. Falls das naechste mal jemand kommt, kann er mir aber was mitbringen. ;)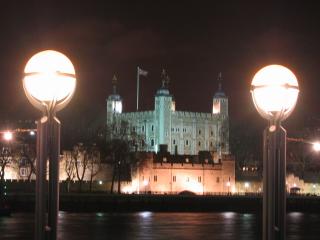 Hier in London war ich natuerlich auch an der Tower Bridge bzw. am Tower (Bild links), als ich dann aber den Eintrittspreis sah, liess ich es lieber sein. So gern ich mir den Tower auch angeschaut haette, aber im Moment musste ich etwas auf mein Geld achten und London ist nicht so weit weg. Da kann ich ggf. auch noch mal herkommen. Aber alles in allem: London ist einfach zu teuer!
Aus diesem Grunde reiste ich auch ein paar Tage eher als geplant von hier Richtung Paris ab, doch hierzu mehr in meiner naechsten Geschichte.